Western Womens and Mens Health is excited to offer Telehealth as an innovated way to provide pelvic health physiotherapy to the community.
You may wonder – how can a pelvic health physio consultation be completed online.
This is how:
Your history and your symptoms can tell physiotherapists a lot about the cause of your condition
Although a physical exam can be valuable to confirm our beliefs, it is not always required.
this means that a number of conditions can still be managed appropriately with success via telehealth
Examples of conditions or consults that may be completed online include (And are not restricted to)
discussion and planning of safe, pelvic floor friendly home based exercise during and after pregnancy
education and discussion regarding childbirth, and healthy recovery tips
assessment of bladder urgency symptoms, and management and behavioural strategies
management and strategies to prevent leakage of urine with coughing, sneezing and or other exercises/positions
management of prolapse symptoms: heaviness, dragging or bulge in the vaginal region
bowel problems – leakage of stools, painful or difficult emptying, constipation
pelvic pain – men and women(including irritable bowel syndrome or medically managed irritable bowel disease)
sexual pain or dysfunction
menopausal changes impacting bladder, bowel and sexual function
pre and post prostatectomy management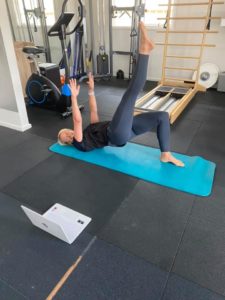 What people often don't realise – there is a lot more to these conditions than simply 'assessing and strengthening the pelvic floor'. This places us in good stead to assist and commence a tailored and effective treatment plan towards your goals via telehealth.  If best quality care, or the scope of your condition requires an in-person assessment – our physiotherapists will tell you straight away. Same if we believe other medical or allied health professionals should be involved.
Telehealth can be used on a smart phone, tablet/laptop or desktop computer with a camera attached.  Having a good Internet connection is also important.  The appointment will be run through Physitrack (the PhysiAPP can be downloaded free from your App store).
Once you have booked your appointment an email will be sent outlining how your consultation will work through the app 'PhysiAPP'. This email will also include a link that you will need to click to start the consult. Hoppers Physio will send a reminder 10 minutes prior to your consultation. Please ensure that whichever device you are using that it does have a camera and microphone.