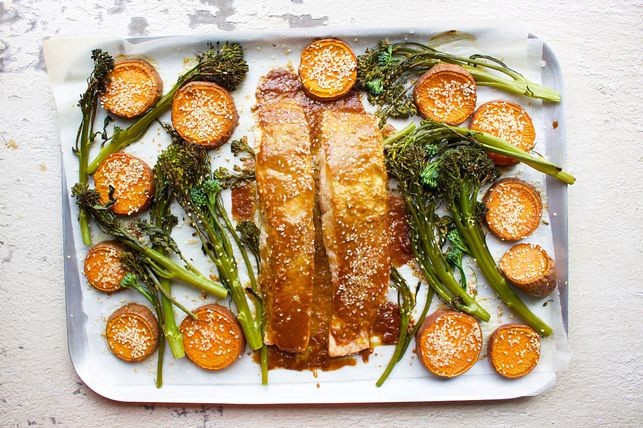 10 Nov

One-pan, quick and easy dinner recipe

Are you struggling to find time to create a yummy meal that doesn't leave you in the kitchen for hours? The team at Western Women's and Men's Health love a quick, easy and did I mention super healthy meal! It's a winner for the whole family and takes less than 10 minutes to prepare with this one pan dish.

One Pan Japanese- Inspired Salmon created by Jessica Sepel`

Serves: 2

Ingredients:
2 salmon fillets
1 bunch broccolini
1 sweet potato
1 tbsp sesame seeds
1 tsp coconut oil (or spray)
1 tsp sea salt

Marinade:
1 tablespoon sesame oil
1/4 cup tamari sauce
1/2 tbsp dijon mustard
2 tbsp sesame seeds
1 tbsp honey (optional)

Method:
Preheat oven to 200°C (180°C if fan-forced)

Chop sweet potato into rounds (1-2cm in thickness). Arrange on a lined baking tray, leaving room for salmon and broccolini, and drizzle with coconut oil or spray. Sprinkle sesame seeds and sea salt. Add to oven for 25 minutes.

Meanwhile, make the marinade by combining all marinade ingredients in a bowl and whisking until combined.

Remove semi-cooked sweet potato from oven and add broccolini to tray. Spray broccolini with coconut oil and another sprinkle of rock salt.

Place two salmon fillets in the middle of the baking tray, surrounded by broccolini and sweet potato, and drizzle over marinade. Add to oven for 12-15 minutes.

Remove cooked salmon, broccolini and sweet potato from oven. Serve with brown rice, if desired.

At Western Women's and Men Health we are passionate about providing insights into healthy living and ways to improve the quality of life in all of our clients here at our clinic in Hoppers Crossing.